From the SBG Graduate Programs desk
The School of Business and Governance Graduate (SBG) Graduate Business Programs of Ateneo de Davao University (AdDU) entered into an academic- industry partnership with ALSONS Agribusiness Unit (ABU). Among the many academic institutions in Davao Region, ALSONS chose AdDU to facilitate their Executive Leadership Development Program (E-LDP), which they aptly call as Future Leaders of ALSONS Group (FLAG) program. The partnership was expected to design a course that would strengthen the leadership potential of ABU's next set of leaders.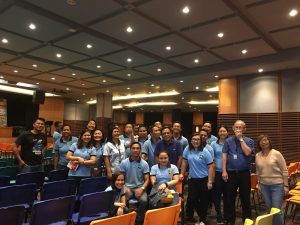 The engagement lasted for sixteen months with twelve courses. Facilitators for each course were carefully chosen by SBG unit heads based on academic qualification and professional background. Several meetings with the ABU executives ensued and soon the Memorandum of Agreement was signed last January 2019.
The courses, albeit challenging, were all designed to hone the managerial capabilities of ABU's next generation of managers. The participants mostly came from its middle management level. They were judiciously chosen by its top management. The goal was clear: to sustain the leadership of ABU in the many generations to come.  The initial number of participants was twenty-seven.  As the program became more intense, this number further went down until only eighteen participants were able to complete the whole program of study.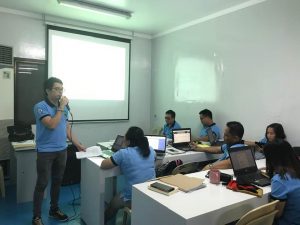 The sessions were held at the ABU's headquarters in Alabel, Saranggani Province. For 3 to 5 weekends, professors of AdDU-SBG delivered the course modules, all aimed at harnessing the participants' ability to use theories, software, business models, and frameworks in their business context. Dr. Margie Clavano delivered the module on Accounting for Non-Accountants, Ms. Lilibeth Leh-Arcena on Ignatian Leadership for Managers, Dr. Marvin Cruz on Managerial Statistics, Dr. Rowenna Mae De Jesus on Foundations of Human Resource Management, Dr. Marilou Baarde on Marketing Management, Mr. Leopoldo Medina on Managerial Accounting, Dr. Danilo Te on Research Methods, Dr. Maria Angela Zafra on Quantitative Methods in Management, Mr. Alberto Bulao on  Productions and Operations Management, Dr. Lady Magrett Cagape on Financial Management, Mr. Renante Timajo on Strategic Management, and Atty. Fidel Valdez, DBA on Laws in Business Environment.
The threat of COVID-19 did not hinder the professors in delivering the program of study, as they proceeded with the program using available online platforms.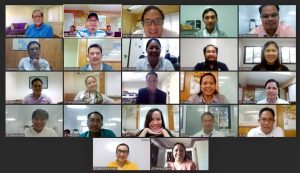 Despite the many challenges faced by the participants in meeting the grueling requirements of each course, the participants successfully finished the program. The online graduation was held last 24 July 2020. The occasion was graced by the owners and executives of ALSONS Agribusiness Unit, headed by Mr. Alejandro I. Alcantara, Executive Vice President and General Manager, Mr. Gabriel H. Alcantara, Vice President for Sales and Marketing, Mr. Miguel A. Dominguez, Vice President for Operations, Ms. Sylvia Duque, Vice President for Corporate HR, and Mr. Lan Espinosa, HR Manager. The occasion was also graced by AdDU President, Fr. Joel E. Tabora, S.J., and Dr. Jenner Y. Chan, Dean of the SBG. The top performers of the program were given due recognition by AdDU and ALSONS' executives. The class topnother, Ms. Enrelen B. Galbo, spoke on behalf of the participants.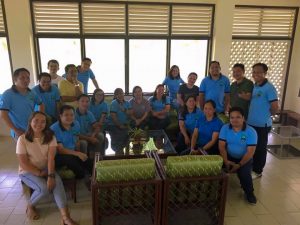 The whole experience of delivering ALSONS' executive leadership development program was a venue for learning, in both ways. ALSONS ABU was generous in sharing their work experiences that no textbook can document or teach. AdDU, for its part, was able to share updates in the use of business models, software, tools, applications, empirical researches, and technology, that may be useful in (re)tooling its future managers as they prepare for its next set of leadership.
The participants had good feedback on their journey with AdDU while the facilitators from AdDU only has the highest appreciation for ALSONS.
Overall, it was a beautiful, enriching experience from both ends.
Ateneo Campus School Tour: