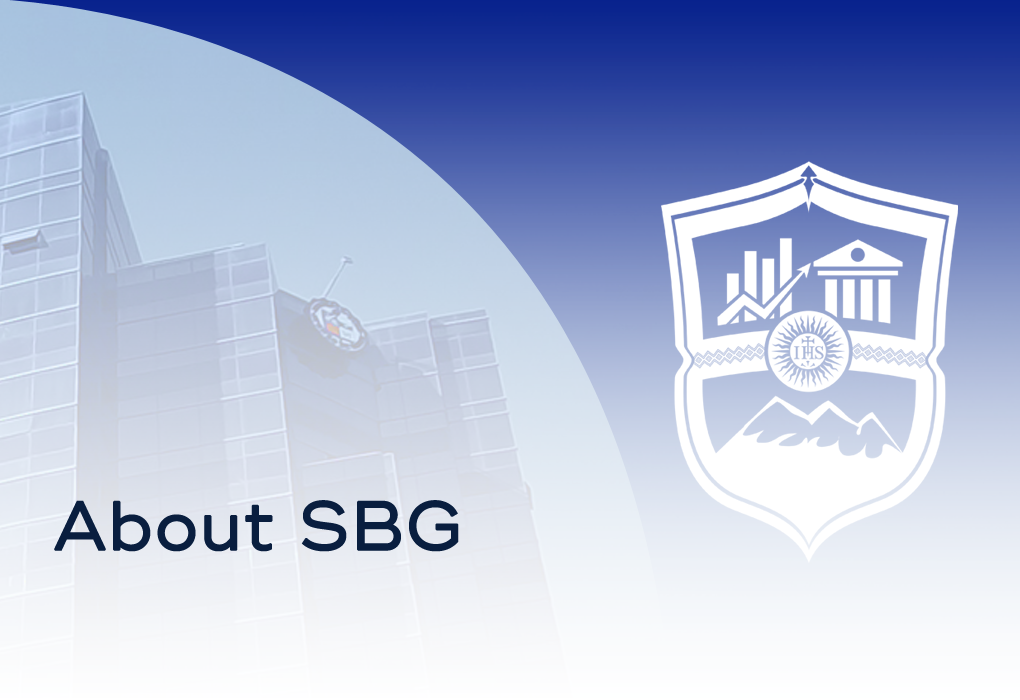 Fifty-two years after its foundation, the Ateneo de Davao University stands as a hallmark of education in Southern Philippines. Since then, the undergraduate business courses of the Ateneo de Davao University were under the College of Arts and Sciences; the MBA, MPA and MAN programs were under the graduate business programs and the MGA program was under the Graduate School of Arts and Sciences. In an effort to have all the business courses of all levels be vertically articulated and to integrate the business and governance courses into one school, the School of Business and Governance (SBG) was constituted last April 2000. The School of Business and Governance offers undergraduate and graduate programs.
The undergraduate programs comprise seven departments, namely: Accountancy Department, Accounting Technology Department, Finance Department, Business Management Department, Marketing Department, Entrepreneurship Department and Public Management Department.
The graduate programs offer master and doctorate degrees.
The school aims at providing a dynamic learning environment for responsible and humanistic business education, research and administration. It strives to be comparable to the best business schools in the world in terms of the quality of its teaching and research. Under its aegis are accountancy, business administration and graduate business programs as well as support programs in computer literacy, research and extension offices. The school distinguished itself in its excellent classroom and out of classroom instruction, experienced and qualified faculty with a business research orientation, and strong academe-industry linkage. It seeks to establish itself as a center of excellence in business as it develops competent, development-focused and service-oriented youth and professionals for business, government and other sectors of the global community.

The Accountancy Department aims to produce professional accountants who possess analytical and creative abilities with a broad perspective to think across disciplines, geographical and political boundaries, and with a mastery of today's technology. It trains and develops students to successfully pass the Certified Public Accountant Licensure Examination.
The Management Accounting Department offers Management Accounting course (previously Accounting Technology course). This is a four-year course that aims to provide students with a strong foundation of knowledge and skills regarding accounting standards and techniques, in order to prepare them for careers as bookkeepers, auditors and accounting staff.
The Business Management Department's four-year course prepares the students to handle general management positions with established large and small corporate businesses, public or private, or may start their own business. It involves the development of planning, organizing, control and leadership functions of management.
The Human Resource Development and Management Department offers Human Resource Management course which aims to prepare the graduates for a career in the field of Human Resource Management in various corporations whether in the manufacturing, marketing and service sectors, or in the different types of industries such as pharmaceutical, semi-conductor, food and beverage, banking industries and other types of organizations.
The Finance Department's four-year course aims to prepare the students through a strong foundation on theory, principles and concepts, as well as analytical tools and perspectives that will provide a sound and competitive basis for financial decision making. The course will equip the students with skills in investment portfolio management, banking and other financial services. Graduates can have careers in financial department of general businesses, investment banking firms, broker-dealer firms, management consulting firms, various departments of commercial banks and other financial institutions, central banks and international banking institutions.
The
Entrepreneurship Department
offers two courses: BS Entrepreneurship and BS Entrepreneurship major in Agri-business course.
Graduates of a BS Entrepreneurship should be able to: have the orientation and motivation of an entrepreneur; Identify opportunities; prepare business plans; accomplish requirements to start a business; operate and manage a business efficiently and effectively.
BS Entrepreneurship major in Agribusiness is a four year degree program designed to provide students with technical knowledge in farming, management, production and marketing of agricultural commodities such as livestock and crops.
The four-year Public Management course aims to develop public servants with the required knowledge, values and skills to serve as professionals in government and society. BPM prepares its graduates for: technical and administrative positions in the government including the Foreign Service and civil society; Law School; and executive policy-making positions in government and in civil society organizations.